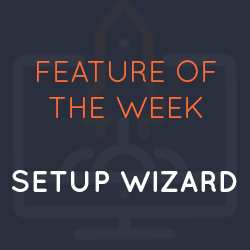 This week's feature of the week is around Repair Pilot's setup wizard, and how this can be used to get your account off to a flying start!
We first introduced the setup wizard after several new users stated that they found it difficult to setup without any guidance, and without taking some time to come to grips with the vast amount of settings that Repair Pilot allows you to make use of.
The setup wizard takes you through a step by step process of setting up the repair management software just for you. Starting with your company information, contact details, logo and more. This allows Repair Pilot to customise the software just for you and your company. From here, the wizard takes you through some of the most basic settings that you need to do in order to get going.
These include the item types that you repair, the brands, the type of repairs that you carry out and more. Doing all of this now smooths the use of the software later.
Moving on from the repair side of things, the wizard also allows you to setup your team. Add all the staff who are involved with the repair process, and Repair Pilot will make accounts for each person, meaning everyone is accountable for what they do on the software.
Once you are done with the wizard, you are ready to go. Remember, you can always run the wizard again by going to the Setting page and clicking 'Re-Run Setup Wizard'.
Also, you can head to the settings page at any time and amend the above as well. Nothing is set in stone and is completely customisable to you and your repair business.
We are always looking for new features and ways to save you time, effort and money. If you have any ideas on how we could improve Repair Pilot for you, please feel free to let us know!
If you have any questions about the canned replies feature, or anything else to do with Repair Pilot, please feel free to contact us on info@repairpilot.com, or call us on 0800 1337 491.
---
by Shaun Brereton
---
Fri, 26 July 2019
Tags: repair pilot repair management repair shop crm repair tracking system