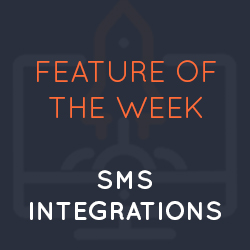 This week's feature of the week is all about the different SMS integrations available to Repair Pilot.
Communication is an extremely important part of a relationship between you and your customers, and with the different communication options available within Repair Pilot, we think it will play an important part in maintaining that relationship.
Today, we are looking at the SMS integrations available in Repair Pilot. We think choice is a fantastic thing, so you have a choice of 4 SMS providers. We have chosen our providers with a few things in mind. Firstly, we wanted to ensure we covered as much of the globe as possible, and there are very few places which can't use SMS integrations with out providers. Secondly, we wanted to ensure the cost was acceptable. We know everyone wants to keep costs as low as possible, so we have only partnered with those that offer a range of pricing options to our customers.
At the moment, we offer SMS integration through Text Local, Clickatell, SMS Global and SMS Broadcast.
So, what exactly can you do with our SMS integrations? You can send out a booking in confirmation to your customer, with their job number, access details for the customer portal and more. You can send out updates on the job right from within Repair Pilot, whether it is a status update, or confirmation of a quote. Let your customers know thier item is ready to collect with a simple automated SMS. Send out collection reminders and more.
Plus, very soon, there will also be a whole marketing section within Repair Pilot which will allow you to market to your customers through SMS.
We are always looking for new features and ways to save you time, effort and money. If you have any ideas on how we could improve Repair Pilot for you, please feel free to let us know!
If you have any questions about the canned replies feature, or anything else to do with Repair Pilot, please feel free to contact us on info@repairpilot.com, or call us on 0800 1337 491.
---
by Shaun Brereton
---
Fri, 30 August 2019
Tags: repair pilot repair management repair shop crm repair tracking system sms integration