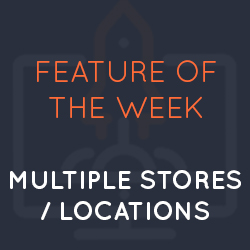 This week's feature of the week is all about the multi store functionality of Repair Pilot.
From our own experience in the past, and from talking to many, many of our customers, we know the ability to add multiple stores or locations was very important. Not only for customers who already have multiple stores, but for those with the ambition to open multiple stores in the future. The last thing you would want would be to invest time and money into a repair business management system only to find it can not grow with you. Our multi store functionality allows you to do this.
Well, that is exactly what Repair Pilot does, it grows with your business, and allows you to add and remove stores as you require. No extra configuration necessary.
When you add an additional store, you can set up its own details, such as address, phone number, logo, currency and more. There are no limits. Repair Pilot allows you to report on each store, and compare figures between them to monitor performance. When you print a receipt or check-in receipt, it will use the stores details of which it originated from.
Repair Pilot is an already versatile piece of software, and the multi-location feature builds on that. We would never want our customers to feel restricted, and this is just one of the many features which gets rid of that worry.
We are always looking for new features and ways to save you time, effort and money. If you have any ideas on how we could improve Repair Pilot for you, please feel free to let us know!
If you have any questions about the canned replies feature, or anything else to do with Repair Pilot, please feel free to contact us on info@repairpilot.com, or call us on 0800 1337 491.
---
by Shaun Brereton
---
Mon, 30 November -0001
Tags: repair pilot repair management repair shop crm repair tracking system multiple stores