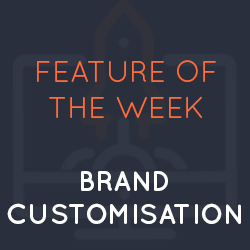 This week's feature of the week is around Repair Pilot's customisation features, and how you can brand Repair Pilot to match your business.
Your brand is something that you have put time, money and effort into creating, maintaining and improving. Why let that go to waste? With Repair Pilot, you can integrate your brand to ensure a consitent image to both your staff and your customers.
Repair Pilot allows you to include your logo, colour schemes and company name throughout the software, to help maintain your brand, even across 3rd part software. From the login page, to the logo, colour scheme and more, all are editable from the Repair Pilot settings. What more, when you send out emails to your customers, your brand and company name is maintained across the board.
The customer portal also takes on these settings, so you maintain your image and brand throughout the customer journey, which is extremely important for your brand campaign and retaining future business from your customers.
So, what are you waiting for? Head to your settings page today and see how you can truley make Repair Pilot your own!
We are always looking for new features and ways to save you time, effort and money. If you have any ideas on how we could improve Repair Pilot for you, please feel free to let us know!
If you have any questions about the canned replies feature, or anything else to do with Repair Pilot, please feel free to contact us on info@repairpilot.com, or call us on 0800 1337 491.
---
by Shaun Brereton
---
Fri, 02 August 2019
Tags: repair pilot repair management repair shop crm repair tracking system