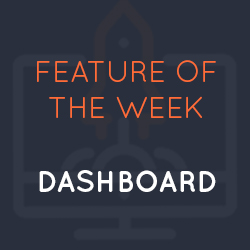 For this entry into the feature of the week section of the blog, we have decided to look at the Dashboard. This will probably become the most visited page for you on Repair Pilot.
Knowing the figures within your company means knowing your company. If you don't know if you had more repairs booked in this week compared to last week, or whether revenue was higher this month over last, then you can't truly know how your business is doing. Normally, finding these figures out would mean sifting through paperwork, or Excel sheets, and is quite honestly, a pain.
The Repair Pilot dashboard allows you to see all of the figures you will need to get a snapshot of your business. You can choose which period you would like to see from: this week, month, quarter and year, or the last 7, 14, 30, 90 or 265, or all time. Whichever option you choose to check out, the dashboard will also give you the figures, and the percentage increase or decrease for the previous period. This not only allows you to instantly see if you are better or worse than the previous period, but by how much, making target setting and more extremely simple.
Having this information available, in real-time, at the click of a button can make the difference between a successful and unsuccessful business. Knowing how long repairs are taking, and average repair prices is invaluable information.
The dashboard also allows you to see your most popular repair types which can help you understand repair trends and your top customer referral methods, so you know where your customers are coming from.
A little further down on the page, you can also checkout a month by month breakdown of revenue and a month by month breakdown of the number of new customer and new jobs. Seeing this information charted out allows you to see which months are the busiest, so you can make plans for staff, stock and more. On the other hand, it can also allow you to see quiet months, so you can increase sales and marketing activity in the future to get rid of any large dips.
All in all, the dashboard is a tool that you will use daily. It can become addictive to measure your businesses success and see your figures grow!
We are always looking for new features and ways to save you time, effort and money. If you have any ideas on how we could improve Repair Pilot for you, please feel free to let us know!
If you have any questions about the canned replies feature, or anything else to do with Repair Pilot, please feel free to contact us on info@repairpilot.com, or call us on 0800 1337 491.
---
by Shaun Brereton
---
Thu, 11 July 2019
Tags: feature of the week dashboard repair management