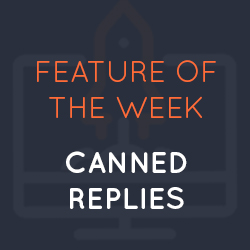 For our Feature of the Week this week, we will be looking at Repair Pilot's canned replies feature. Although this is one of our simpler features, the amount of time that this feature can save your repair business is remarkable.
Communication with your customers is almost as important as the repair itself. Ensuring they are always up to date with the progress of the repair is imperative. Without regular updates about their repair, customers get anxious, frustrated, and worst of all, the bad experience could prevent them from being a repeat customer.
With that being said, the last thing you want your techs to be doing is trying to get people on the phone all day, or to be typing up emails and updates to send them. On top of this, you will find that most people work the same time that your business is open, so they would prefer an SMS or email. This is where canned replies step in.
The canned reply section allows you to build a catalogue of messages that you may need to send your customers, whether that be via SMS or email. Meaning you do not have to type the same thing over, and over again. By doing this, your staff can simply select whether they want to email or send SMS, then select the canned reply they want to send.
But, that's not it. When you are creating the replies, you can enter placeholders for job or customer data to be automatically be replaced with the real data when you send the message. You can choose from various field data, such as the customer's name, the job number, price, repair types, your company name, contact details and more. This allows you to send a quote, confirm a job is complete, remind the customer that the repair is ready for collection and more. Anything that you may need to send the customer can be done so with the click of a mouse.
If you add up the time you and your staff spend phoning, emailing and texting customers, you will soon see just how much the canned reply feature can save you. Not only that, but the increase in confidence your customer will have in your business from being constantly in the know about their repair vastly improves the chances of referrals and repeat custom, increasing the lifetime value of that customer and more.
We are always looking for new features and ways to save you time, effort and money. If you have any ideas on how we could improve Repair Pilot for you, please feel free to let us know!
If you have any questions about the canned replies feature, or anything else to do with Repair Pilot, please feel free to contact us on info@repairpilot.com, or call us on 0800 1337 491.
---
by Shaun Brereton
---
Mon, 01 July 2019
Tags: repair pilot canned replies repair management customer experience