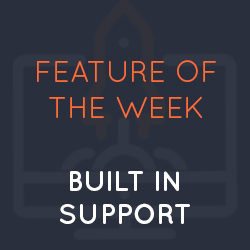 This week's feature of the week is all about the built in support features of Repair Pilot.
We understand that people have questions, problems, suggestions and more. In order for us to serve our customer quickly and efficiently, we have spent time integrating a support system into Repair Pilot to allow you to quickly and easily get support when you need it.
The reason we have done this is because when you need support, typically, you need it now. Our integrated support alerts us to your request, even out of hours, and allows us to offer swift replies to answer your questions, and fix any issues which may arise.
As well as a standard support ticketing system, we have also integrated a chat system, which we man as much as we possibly can. We are always on between UK working times (9:00am - 5:30PM GMT), and can often be found active on the chat system at various hours outside of this, as we know many of our customers spread across Europe, Canada, USA and Australia, so we try and maintain a presence on here as much as possible.
What our built in support also offers is an easy to use suggestion box for our customers. We have found that some of our most used features have come from feedback from our customers, and we do not want to hinder you to suggest even more great features, which will not only make Repair Pilot better for your, but everyone else in the future.
We are always looking for new features and ways to save you time, effort and money. If you have any ideas on how we could improve Repair Pilot for you, please feel free to let us know!
If you have any questions about the canned replies feature, or anything else to do with Repair Pilot, please feel free to contact us on info@repairpilot.com, or call us on 0800 1337 491.
---
by Shaun Brereton
---
Fri, 16 August 2019
Tags: repair pilot repair management repair shop crm repair tracking system